Chiropractic Testimonials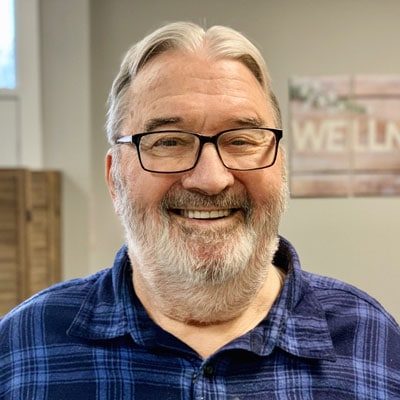 PATIENT SPOTLIGHT
Hey Medina! Meet Sheldon!
"I had been to 8 or 9 orthopedic doctors and no one could figure out what was wrong with me. Surgeons wouldn't operate because my back looked like a back of a healthy 40 year old. They thought it was arthritis but the medications never worked. So I'd keep asking them, 'Why do I hurt all the time?'"
Over the past 7 years, Sheldon has had to give up softball, bowling, mowing his lawn, and golfing because of the pain in his back re-emerging from a fall in 1972!
"When I came in to Advanced Spine, I was at about an 8 in pain constantly. Today, I feel wonderful and it's only been a little over a month."
The next picture we will have of Sheldon will be him swinging a golf club with no pain!
---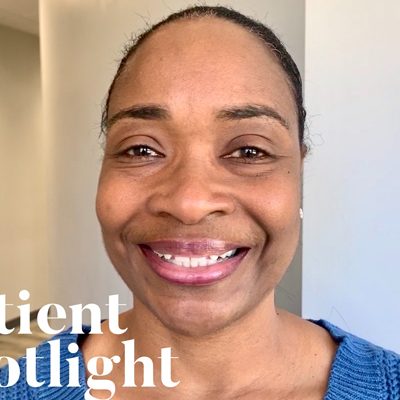 PATIENT SPOTLIGHT
Hey Medina! Meet Marolyn Williams and check out her journey from worrying about the quality of her future to being able to claim back her life!
Marolyn came to us this past summer with a disc disorder in her neck that was causing radiating pain in her shoulders, arms, and upper back. She'd been like this since the end of 2018. Her neck was in such bad shape, she couldn't sleep, cook, clean, exercise, or do her job helping patients.
"I was in so much pain. I was sitting in my car one day, waiting to go to the gym because I was told it was best to keep moving. But I couldn't go in. I was sitting there praying and asking God for help me because at that point, I had been in this pain for so long, tried so many treatments, and nothing was helping. I honestly didn't know what else to do. I said, 'If I have to live in this kind of pain, I don't want to.' After praying, I went on my phone and saw an ad for you guys pop up. Personally, I think that was God. So I checked out the website, saw the free initial consultation, and made an appointment."
"This place has been a true blessing. I noticed I was able to sleep just after a couple weeks and after about a month, I didn't notice the pain anymore! Today, I can't really say I have pain. I still have my days where I have little flare ups and I'm not perfect, but Troy explained to me even before treatment that it would be a process. Before coming to Advanced Spine it felt like I was always in a daze, Now, Im able to walk around and function. This place was an answer to prayer."
---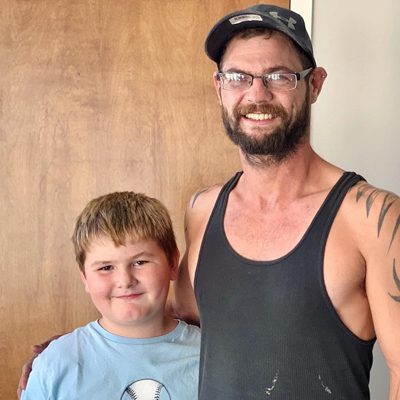 PATIENT SPOTLIGHT
Hey Medina! Meet Ryan and one of his sweet boys for our Patient Spotlight!! Ryan is a dad of three kiddos and, because of his time here with us, he is literally doing back flips! Check out how!
After nine years of pain, Ryan found out he had some significant disc degeneration in his neck. In January 2019, he had a disc replacement surgery but had no clue what kind of "aftermath" he was in for post-op. A few month past and he began to notice his hips hurting and legs giving out. He got to the point where he was barely able to walk.
"I'm doing it all here. The physical therapy, cryotherapy, massage therapy, and chiropractic. I love it. I could barely get out of bed before but now I'm doing back flips again. I haven't been able to do those for nine years. But now that I've been coming here, and everything has been able to get aligned and moving right, I'm not in pain anymore. Its definitely made my work life a lot easier but its made my family life a lot better."
---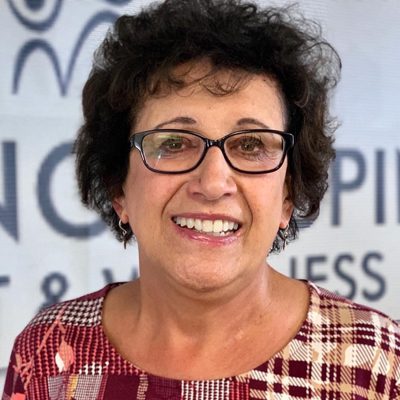 PATIENT SPOTLIGHT
Hey Medina! Meet Mary Ann Michalsky and how she is able to live the way she wants WITH scoliosis and WITHOUT surgery!
Mary Ann was diagnosed 40+ years ago with scoliosis. When she came to us, she was having a flare up and knew she needed more than just a couple quick treatments. Her friend recommended her to come check us out for our free consultation.
"You have your physical therapy, your chiropractic, you have your decompression, and you have the option of pain management with your program. I feel like all my bases are covered here and I don't have to go to other places to get anything else I need. They incorporate everything. I'm about 99% better and I'm at the end part of just tweaking with my care. It's been a great experience here."
---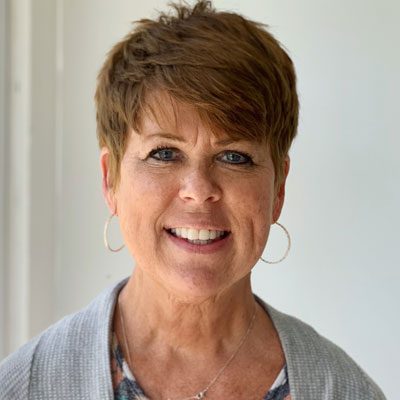 PATIENT SPOTLIGHT
Meet Michelle Fortney!
I had sustained a neck injury about 15 years ago. I had a blow to the forehead which blew some discs out in my neck. I tried physical therapy and pain management for about a year and was getting nowhere. So I ended up choosing have surgery.
After surgery, I was never the same. I had constant headaches, my sleep patterns were awful, and I was constantly having to rest my head because I was always hurting. I tended to protect my neck so much that I developed forward head posture. Trying to hold up my head was like a full time job.
After years of suffering with this, my son in law, who is a patient here, told me to try and see Dr. Meehan at Advanced Spine. I really didn't want to. I had tried similar avenues before and had dropped a lot of money doing them for no sustainable results. So when I first came, I was very skeptical. I almost walked out a couple times, but then I started thinking, "You know what, my health is deteriorating and I need to fix this- not put a bandaid on it."
So decided to give it a try. I told them that if I didn't feel a difference in a couple weeks, I was going to pull out.
Im telling you... I have been so pleased with what's been going on here. It's an incredible combination of treatments. Everyone works together for the purpose of getting you healed.
I come in, do my exercises, then I go over to my physical therapy- they're amazing!! They know you, they know your name, they know what's good for you, and they push you.
They also give you homework and really explain why it's so important for you to do these and why you can't give up on doing them. I've never had that anywhere else. I've never had that where I do stuff at home.
Then I go over to the medical massage. I've mainly been with Thomas and he is awesome. He'll work on my neck and shoulders then while Im getting dressed, he's already taking with the physicians assistant about the injections and suggesting where the injections could help me best.
Then I go over to get adjusted and I walk out of here feeling like a million bucks!
Everyone here is so friendly and really wants you to get better, It's not just come in, do your thing, and then, "We'll see ya next time!" It really seems to be everyone working together for one thing; that's to heal.
The kindness of everyone... I don't know how they know everyones name! But that makes us feel good that were not just a number, we're a person here.
---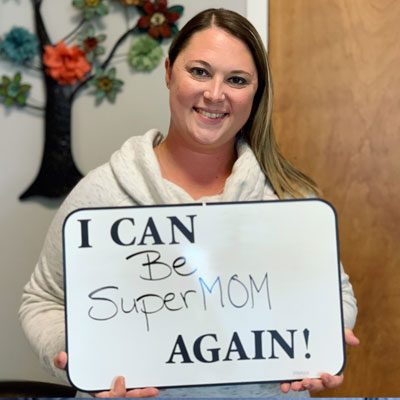 PATIENT SPOTLIGHT
Meet Beth Mercer! Check out her story of living with horrible back pain and surgeries for 13 years- all while being a busy mom of four!!! Such a win!
I've had back issues since 2006. I had my first back surgery nine days before my 21st birthday and I've been dealing with it ever since. After having my twins six years ago I've been in and out of pain management clinics, different spine centers, and not going anywhere on a vicious cycle of meds. Then two years ago before having my baby I had another back surgery to no success.
A few months ago my back went out and my pain management doctors didn't do anything to help. I was super frustrated and at the point where I had to ask, "Where is this going in actually helping me long term?" One of my friends who had been a patient here pointed me in this direction. The first time I came, I told my husband, "I think this is a God sent.. I think this is where I need to be."
Before being a patient here, one of the biggest things that I struggled with was not being able to do anything with my kids. I couldn't lift them, it was hard getting the baby out of her crib, I couldn't play outside at the park, I couldn't go on the trampoline, I couldn't do much walking or bike riding, I really wasn't able to do anything. I was just too sore every morning and night.
But since becoming a patient, I have been pain free all summer and with no migraines! The other night I actually picked my twins up and took them to bed for the first time in five years.
Everything has changed. My entire family has said they have seen a difference. My six year old daughter, who is always wanting me to pick her up, looked at me and said, "Mommy, you can pick me up now!"
I was sitting around with my friends a past weekend talking about this place and how I used to have eight to nine doctors I was seeing. Now I only see ONE. It's like a whole new life. It's been an amazing summer.
---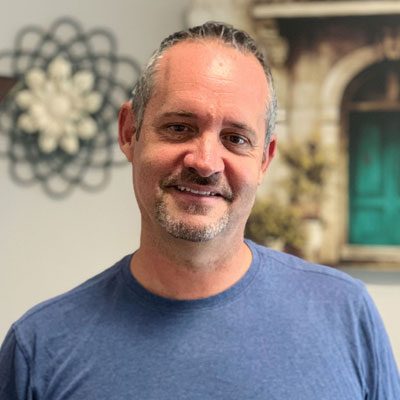 PATIENT SPOTLIGHT
Meet Mike Gray! He is now unable to get out of pulling weeds.
I was referred to Advanced Spine, by a friend of mine, because I was having sharp, lower back pain. It was extremely painful to get around, to bend down, and to play sports. I even had to stop golfing for a while. Overall, it was difficult to just do simple daily tasks.
I'd never been to a chiropractor before and I didn't understand the process at all! I thought I was going to come in here and get "snapped" into place and it be just for one day. When I was shown how it was going to be a two month process, I was a little weary of it all. But now that I've been here and been through it, I understand that you have to go through the whole process to heal the body; it's not a quick fix.
Pain wise, I'm down to what I would say is a one. I know that with my degenerative issues there will always be a little bit of pain there, but I often don't even notice it.
I was telling one of the doctors, not long ago, that there's a very good staff here. It's been very educational with the videos and chats with the doctors. They made sure I understood what my issues were, and gave me a good plan of what they as a staff would do to try to remedy those issues. I can tell by the way it's operated here that it is very, very customer centric. I've been treated great and I really see how the focus is on making sure the patients are being treated well and are informed. I didn't feel like just a number getting thrown down on a table and being shipped out. My experience has been really great!
---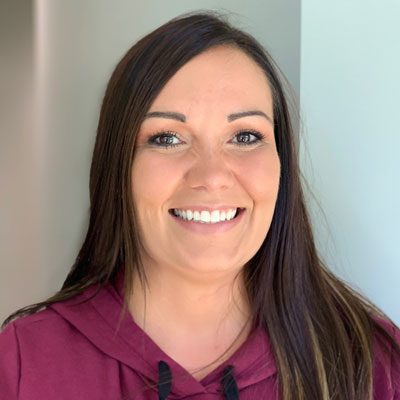 PATIENT SPOTLIGHT
Meet Ashley Lehman! Check out how she is MIGRAINE FREE, PEOPLE!
Back in June, I found Advanced Spine on Google when I was looking for pain relief for my migraines. I was having migraines six days a week for over two years. I had neck surgery in October 2018 and after that, the migraines became more intense. It was debilitating.
I was really nervous to get adjusted after the neck surgery. But after my first adjustment, I had major relief- now I crave them!
The staff is nothing less than amazing. All the chiropractors, the physical therapists, the office staff... everyone is so compassionate and caring to the extreme. They're on your side to get better and they will push you to get there.
After the first phase of treatment, my migraines narrowed down to about three times a week. I kept up on my homework and techniques I learned in physical therapy and now I am migraine free!
I've tried chiropractic, I've tried rounds and rounds of physical therapy, I've had injections, but I've never had them all together. I think having all these treatments together is what helps the best because they are all complimenting each other. Nobody else offers this.
The homework is the big thing though. If you're not committed to getting better and doing your homework, you're not going to get better. You have to want it.
The real downfall of being in phase three treatment, and the reason I don't like it, is I miss coming here all the time.
---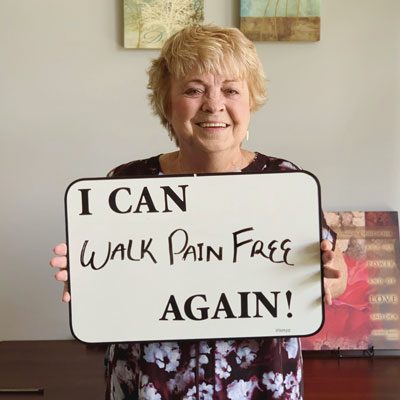 PATIENT SPOTLIGHT
Meet Eileen Napier! (Our only wish is that we could capture in writing all the laughs she had during her testimonial)
Originally I came here because I'd had pain in my back and my arm. The pain in my arm would make my hand go numb. It would be so bad that the pain would wake me up in the middle of the night. I was really unable to do a lot of things with my hand. I was told by others that it was carpal tunnel or tendonitis and I just knew that that wasn't it. I also had this sciatic pain where there would be times I'd be walking along and would have to stop because my leg would hurt so much. Id gone to a back doctor in Colorado and they wanted to actually operate and I said no, no, no. Right after that we moved here to Medina and that's when I found you guys!
I looked online and I liked what I read about how the doctors would review everything with me and then set up an individualized plan. So my husband and I came that first time and we told them what was going on. Once they took the x rays, we found out that all of these problems I had been having were being caused by my neck.
I am not kidding you, I have suffered for years and years and no one could ever decide what to do with me.
Now I have just a little bit of tingling in my hand every now and then and I don't have to worry about walking and my leg giving out. I can do a lot of things now that I wasn't able to do before without pain.
With the physical therapy, the adjustments, decompression, and massages..with everything.. It's just been amazing! I am TOTALLY amazed. I'm just so happy I happened to find this place. Everyone here is so nice and you can tell they care about you. You're not just a number where you come in and then they get you out. It's been a God sent for me. I love it here! They're probably going to try to kick me out!
I was talking to someone the other day about this place and how I can't believe the difference I feel in such a short amount of time. But when you know someone is genuinely trying to help you.. That's the most important thing.
---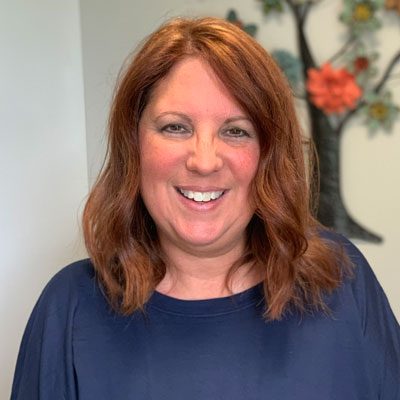 PATIENT SPOTLIGHT
Meet Stacy Farrenholz and how she found relief from her leg pain OF THREE YEARS when other doctors just about gave up
When I first started coming here, I came in for my neck. I couldn't take the soreness and headaches anymore. But, I also had a dull, aching pain in my upper leg for three years and it got to the point where, by the end of the day, I could barely stand on it. I had multiple tests run at the hospital- MRIs, x rays, vascular tests...you name it, I had it. After all these tests, doctors still couldn't tell me why I was in pain. I basically just lived with it. I thought this was just how it was going to be for the rest of my life. I tried everything and I wish I would have come here first.
My experience at Advanced Spine has been so positive; you don't feel like a number. You not only feel, but you know that everyone truly cares about you, and getting to the root of what is wrong. It really bothers them if they can't figure it out. Everyone works together. I really like the collaborative effort everyone makes for your benefit, because they truly want to see you get better.
I tend to sit a lot at my job as a teacher, so not having that neck pain at the end of the day is fantastic. My neck is no longer in excruciating pain and because of my treatment, I also am headache free.
The range of motion in my leg has improved so much. I can bend my leg back and touch my back. They found out my leg pain was because my hip flexor muscle was locked and I had some inflammation in my iliopsoas.
Pinpointing the pain in my leg, that was a huge God sent. I think the other doctors thought I was crazy. They told me that they recognized that I was suffering from this pain, but they couldn't tell me what was causing it. They equated it to having a headache in my leg. But as soon as I came into Advanced Spine, right off the bat, with my first massage, they explained how my hip flexor was the cause.
From the exercises they gave me in physical therapy, chiropractic care getting everything in right alignment, and massage therapy also working out my hip flexor and giving me stretching techniques.. Everything has been incredible!
---
"Just that I tend to be very skeptical of most things and people, but after my second visit, I felt very comfortable, and encouraged that you will truly be able to help be finally reverse this trend of increasing pain I have dealt with over the past 6 or so months."
- Karen C.
---
"Everyone was very kind and courteous and I left my first visit feeling very encouraged about improving my health condition."
- Steven A. 
---
"Lex was so friendly and even though I felt really uncomfortable she was so kind and professional!"
- Katie J.
---
"Almost 10 years in pain and believe they may be able to help me! Not much luck anywhere else so I'm praying they can help me!!"
- Scott L.
---
"I would tell my relatives and friends to call. Great staff, caring people!"
- Pat G.
---
"Everyone was very nice and explained everything in a way that was easy to understand."
- Sandra D.
---
"Fantastic service! Very caring and respectful!"
- James B.
---
"I can't wait to get started."
- Donna S.
---
"They are good."
- Andrew G.
---
"Very friendly and helpful staff. Feeling very confident that I'm going to come out of this 6 week rehab period feeling much better."
- Chuck C. 
---
"This place is great."
- Jodie L.
---
"This is the best I've felt in 15 years! I danced around my living room the first time I was actually able to be pain free!"
- Jena C.
---
All reasonable efforts will be made to determine if you are a good candidate for this therapy before getting started. There are many factors which determine the level of pain relief which an individual may experience and how long it may take to achieve such relief. As such, it is important to note that participation in this therapy can not guarantee a specific amount of pain relief as results will vary for each individual.
Visit Advanced Spine Joint & Wellness Center today.
Monday
8:00am - 12:00pm
3:00pm - 6:00pm
---
Tuesday
3:00pm - 6:00pm
---
Wednesday
9:00am - 12:00pm
3:00pm - 6:00pm
---
Thursday
9:00am - 12:00pm
3:00pm - 6:00pm
---
Friday
8:00am - 12:00pm
---
Saturday
Closed