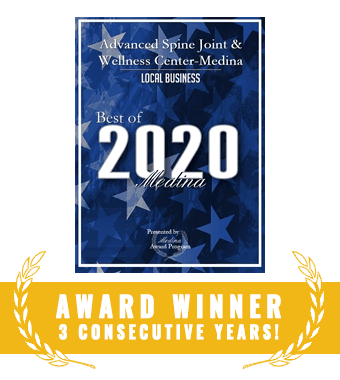 Welcome to Advanced Spine Joint and Wellness! We are Medina, Ohio's most comprehensive and complete Chiropractic and Physical Therapy office! If you are in search of a chiropractor in Medina, it makes sense to choose an experienced doctor you can trust. We are in-network with all major insurance carriers including Medicare and Medicaid.
We would like to welcome you to our practice. We do our best to provide the most comprehensive and natural pain relief programs in Medina, Ohio. Our unique approach and system allows us to evaluate , investigate and treat pain more effectively for the long term, while improving YOUR quality of life.
We accept walk-in and same-day appointments!

Advanced Spine Joint & Wellness Center
Here at Advanced Spine Joint and Wellness each provider shares a value system that is purpose driven. This means EVERY provider here is because we truly enjoy assisting patients find relief, wellness and an overall better quality of life!
We are conveniently located in Medina, one mile from the intersection at Route 18 and Interstate 71. This location allows us to see patients not only from Medina but also the Cleveland suburbs and the greater Akron/Canton area.
​We believe the comprehensive nature of our practice is second to none in Northeast Ohio! Not only do we have AMAZING chiropractors, but we have 12 other healthcare professionals that collaborate to enhance the chiropractic adjustment.
CHIROPRACTIC CARE FOR YOUR PAIN
​We commonly work with sciatica, spinal stenosis, back pain, disc herniations, degenerative discs, neck pain and more! We are also GREAT at treating knee pain in Medina without surgery!
One of the BIGGEST misconceptions we broach in our office is that many people have tried chiropractic before, BUT our entire physical therapy, medical and massage, teams supporting the chiropractic philosophy allows US to get results QUICKLY but not just working on the joint issue, but also addressing the soft tissue dysfunction around the joint.
​The chiropractic physical medicine model at Advanced Spine Joint and Wellness is the most comprehensive non-surgical practice that can provide relief for the most complex issues. If you haven't tried the Integrative approach you don't know what your missing! Call TODAY and start taking control of YOUR health!
A CHIROPRACTIC TEAM YOU CAN TRUST
Frequently Asked Questions
About Chiropractors in Medina
Chiropractors practice a wellness-based, hands-on, drug-free approach to health care that includes patient examination, diagnosis, and treatment. Chiropractors have broad diagnostic skills and are also trained to recommend therapeutic and rehabilitative exercises, as well as to provide nutritional, dietary and lifestyle counseling. A chiropractor may assess patients through clinical examination, laboratory testing, diagnostic imaging, and other diagnostic interventions to determine when chiropractic treatment is appropriate or when it is not appropriate.
Chiropractic care is finding and identifying the cause of a problem. We focus on treating the problem, and not the symptom. In most cases, problems are years in the making, so chiropractic care is a slow steady healing process as we aim to slowly bring the body back to its normal state.
Chiropractic as a profession began in 1895 when its founder, Daniel David Palmer, "adjusted" the spine of a deaf janitor and helped restore his hearing. Since then the profession has grown in science and its ability to treat the nervous system in a wellness-based fashion to help patients alleviate health issues from back pain to asthma!
A chiropractor uses spinal adjustments and manipulations to other parts of the body to realign the bones and joints. The term "subluxation" used by chiropractors means something is out of place in the spine placing stress on a nerve.  So as to reduce pain, improve bodily function, restore range of motion and improve flexibility, balance, and coordination an " adjustment" or manipulation of the spine and/or joints is made to bring joints into proper alignment, to reduce pressure on nerves.
Chiropractors are Doctors and undergo rigorous training like Medical Doctors do. They are required to take a national board examination and maintain state licensure in the same fashion that a traditional medical doctor would.
In our office, our chiropractors work along with Orthopedic Surgeons, Physical Therapists, and other health professionals. This complimentary model improves safety, efficacy and the ability to treat the patient's problem in a collaborative environment. We also have onsite imaging with Xray and MRI which should be done prior to any treatment, whereas many chiropractors DO not take images.