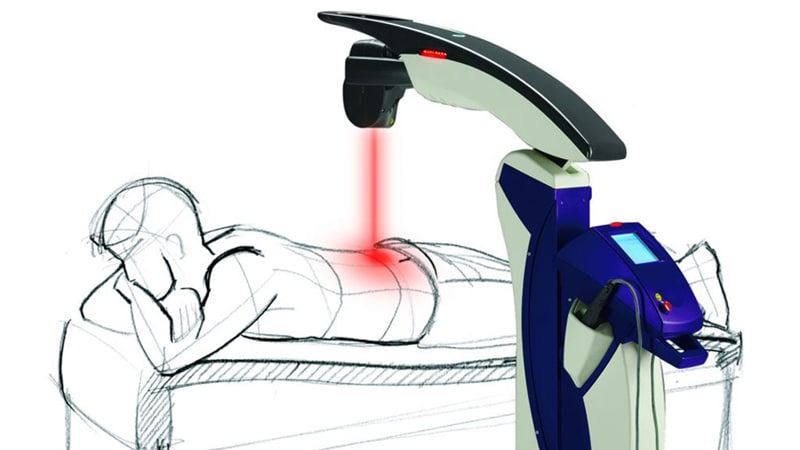 At Advanced Spine Joint & Wellness of Medina, we offer the latest in robotic laser therapy services. Should you suffer from a painful muscle, bone or joint condition, robotic laser therapy may be the best treatment option for you.
---
How It Works
The MLS (Multiwave Locked System) Therapy Laser emits specific wavelengths of light to treat affected areas. This process causes stimulation of intercellular activity and results in recovery of the damaged area. Treatment is painless, and most patients see positive results after only a few sessions.
---
Who Can Benefit?
Several different conditions can be helped by our MLS Therapy Laser. This includes:
Sports injuries
Tendinitis
Knee problems
Nerve damage
Plantar fasciitis
Neck pain
Shoulder pain
Foot pain
Lower back pain
If you have a painful joint, laser therapy can help!
---
The Dual-Beam Difference
Most lasers have only one beam. The MLS Therapy Laser has two simultaneous beams. Each beam is critical to support the other. One beam dilates blood vessels to open up blood flow to the damaged area. The other beam stimulates a cellular healing response to decrease inflammation and pain, rapidly healing the area.
---
The Most Advanced Technology
We believe in using only the most advanced and up-to-date medical technology available. That's why we offer the best in robotic laser therapy through the MLS Therapy Laser. This FDA-cleared treatment option has proven effective in reducing inflammation of affected areas and accelerating cellular reproduction. The only other place you'll find it in Ohio is in the Cleveland Cavaliers' facility. Don't spend another moment without the benefits of this state-of-the-art technology!
We'll determine if you could benefit from laser therapy at your comprehensive consultation and examination. Call today to schedule your appointment.
Monday
8:00am - 12:00pm
3:00pm - 6:00pm
---
Tuesday
3:00pm - 6:00pm
---
Wednesday
9:00am - 12:00pm
3:00pm - 6:00pm
---
Thursday
9:00am - 12:00pm
3:00pm - 6:00pm
---
Friday
8:00am - 12:00pm
---
Saturday
Closed