Physical Therapy Medina OH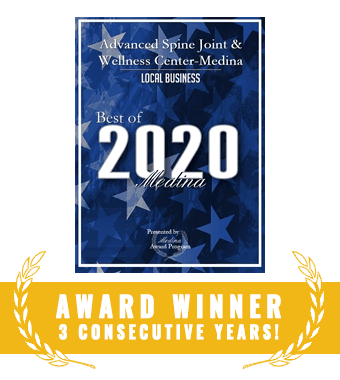 Welcome to Advanced Spine Joint and Wellness! We are Medina, Ohio's most comprehensive and complete Physical Therapy and Chiropractic office! If you are in search of physical therapy in Medina, it makes sense to choose an experienced doctor you can trust.
We would like to welcome you to our practice. We do our best to provide the most comprehensive and natural pain relief programs in Medina, Ohio. Our unique approach and system allows us to evaluate, investigate, and treat pain more effectively for the long term while improving YOUR quality of life. Advanced Spine Joint & Wellness Center
Physical Therapy at Advanced Spine Joint and Wellness is tailored to meet each individual's needs. We use several different types of Physical Therapy to include the McKenzie Method.
What is unique and makes our program more effective with Physical Therapy is that we typically start with strengthening. We first progress through a pain relief phase and may use things like mobility, ultrasound, cryotherapy, laser, and a "Hands-On" approach. Once patients are out of pain, we progress into a restorative phase aimed at assisting the body in returning to normal function.
Physical therapy also helps treat a wide range of disorders; such as pediatrics, geriatrics, orthopedics, sports medicine, neurology, and cardiopulmonary physical therapy. If you need or have been through Physical Therapy we would be happy to help!
PHYSICAL THERAPY FOR YOUR PAIN
Physical therapy helps restore function, improve mobility, relieve pain, and prevent or limit permanent physical disabilities of patients suffering from injuries or disease. Physical therapy or "medically directed rehab" helps restore, maintain, and promote overall fitness and health. Our Medina patients include accident victims and individuals with disabling conditions such as low-back pain, arthritis, heart disease, fractures, head injuries, and cerebral palsy.
Treatment often includes exercise; especially for patients who have been immobilized or who lack flexibility, strength, or endurance. Physical therapy helps encourage patients to use their muscles to increase their flexibility and range of motion. More advanced exercises focus on improving strength, balance, coordination, and endurance. The goal is to improve how an individual functions at work and at home.
An Experienced TEAM YOU CAN TRUST
Frequently Asked Questions
About Physical Therapy in Medina
Physical Therapists are specialized medical professionals that thoroughly assess and treat individuals that are experiencing impairments and limitations of function & movement. Whether the condition results from injury, disease, or other causes, Physical Therapists will establish a personalized and cost-effective plan of care to improve mobility and relieve pain. The aim of Physical Therapists is to restore function and strength in the area of needed treatment, therefore reducing or potentially eliminating the need for medication or surgery.
Physical Therapy can help treat a wide variety of medical issues for people of all ages. From initial diagnosis all the way through the restorative and maintenance phases of recovery, PT is an effective plan for treatment and prevention. Some common conditions that can benefit from PT include:
Back pain
Sciatica
Spinal Stenosis
Neck Pain
Migraine Headaches
Knee pain
Arthritis
Arthritis
Rotator cuff injuries
TMJ
Muscle strains
Fractures & multiple trauma
Spinal cord injuries
Plantar Fasciitis
Carpal Tunnel Syndrome
Fall risk & balance issues
Parkinson's Disease
Multiple Sclerosis
Cerebral Palsy
Muscular Dystrophy
Tennis elbow
Sports-related injuries
Cystic Fibrosis
Pelvic floor dysfunction
We are an integrated clinic here at Advanced Spine Joint & Wellness Center, meaning we address an individual's symptoms from multiple disciplines. We offer Chiropractic care, Massage Therapy, Physical Therapy, natural injections, Laser Therapy, and more under one roof. This helps our patients save time and money.
Additionally, our Physical Therapy program utilizes the innovative McKenzie MDT (Mechanical Diagnosis & Therapy) method for treatment. MDT is a patient-centered approach to therapy that uses clients' responses to the movement to determine the treatment classification and approach.
Physical Therapy is not a one-size-fits-all kind of treatment, and MDT helps guide individualized movements to each patient and their specific needs. Our PT conducts tests before and after each exercise to see if it makes a client's symptoms better or worse. This way, meaningful exercises are established specifically to a client's symptoms.
Those who actively participate in Physical Therapy will see many beneficial results, including:
Pain relief
Improved mobility & balance
Reduced need for medication
Avoiding surgery
Recovery from injury or trauma
Fall prevention
Here at Advanced Spine, we also educate our patients on how to treat their symptoms at home by giving them tools and exercises they can have in their back pocket. Providing knowledge and exercises to do at home will also help maintain the progress that is made inside our clinic.
Not at all. Physical Therapy is for everyone and anyone that has limitations in function and mobility. That limitation could be from work-related causes, disease, disability, trauma, sports injury, and more.
PT does not stand for "pain and torture." In other words, we're not the "No Pain, No Gain" facility. While we don't want to push into or through pain, we also don't necessarily avoid it. If a client experiences some discomfort going through a specific motion, that's pretty normal as long as the pain is no worse when they come back to start position. We promote acknowledging and listening to pain as a check engine light to an issue that needs to be addressed, but there are other ways to approach symptoms rather than just continuing through the pain.